ITINERARY (Subject to change)
- Door-to-door collection from the Cape Town metropolitan area. Light packed breakfast is served on-board the bus
- Arrival at our Coffee Shop, where we will enjoy a cup of hot coffee, while the safety briefing and other formalities takes place.
- The boat launches from Kleinbaai harbour. 20 min later, anchor in or nearby "Shark Alley".
- Return to Kleinbaai harbour.
- A light lunch is enjoyed while viewing the video of the day. A copy of your own personal experience is
available after the tour.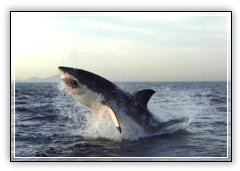 Please note : Due to tides and collection schedules, we can only confirm exact collection times at 16h00 the day prior to your tour.
INCLUDES:
1. Luxurious return transfers from Cape Town (Air-conditioned, Mercedes Sprinter Bus);
2. Tasty packed breakfast served on-board our bus;
3. Hot tea and coffee upon our arrival in Gansbaai;
4. A light lunch served upon our return;
5. Complimentary beer and wine to accompany your lunch;
6. A fast, yet safe 20-minute boat ride to Dyer Island;
7. Snacks, drinks and sweets on-board the boat;
8. Educational presentation and safety briefing;
9. Diving equipment and wet-suits available at no additional cost;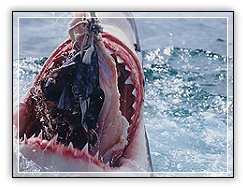 10. Scuba diving in the cage for experienced divers;
11. Assisted snorkeling in cage for inexperienced divers;
12. Spectacular surface viewing for non divers;
13. Waterproof rain jackets available on the boat.
14. View the Cape Fur Seals and African Penguins from the boat (subject to good weather conditions);
15. Complimentary Shark Project Workbook, sponsored by Dr. Erich Ritter, (while stocks last).
16. Logbook stamp after the tour;
17. Enjoy land-based whale watching in Hermanus (July – Dec);
18. Drop-off at Cape Town International Airport at no additional cost.
19. En-route tour of the indigenous fynbos in the Overberg area, the export apple orchards of Elgin and the informal settlements in Cape Town.
. DVD's, video's, underwater camera's, T-shirts, P-caps and various other gifts on sale;
Purchase a high quality copy of your own personal shark diving experience, after the tour. This is
available on video or DVD.
Persons not making use of our transfers, will receive a packed breakfast upon arrival and a light lunch after the tour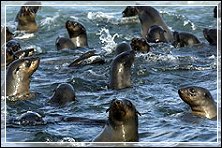 BEST SEASON
Our tours run each and every day of the year, as Dyer Island is a good place to see the sharks all year round. The absolute best season is probably in our winter months, when sharks are particularly active in their feeding pattern. The following guide-line is based on tours we have done over the past 8 years and months may overlap slightly.
PEAK SEASON : APRIL to OCTOBER (99% success rate)
HIGH SEASON: NOV. and DEC. (90 – 99% success rate)
INTERMEDIATE SEASON : JAN to MARCH: (80 – 90% success rate)
Water temperatures vary between 16 and 20 degrees Celsius during our high season, and between 10 and 16 degrees Celsius during our intermediate and low seasons.
WHAT TO BRING :
Towel, warm weather proof clothing, sunscreen and hat, camera and binoculars, sea-sick tablets and dive card.